The Importance of Punctuation In A Young Man's Life
So, I've mentioned before that my old sports car is sitting in my driveway. It attracts a note or two each week from the teenage boys that lust after the car.
Recently I got a note on the car: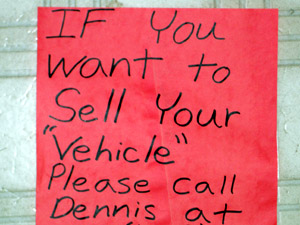 I was tempted to call him and complain about his punctuation, but I decided not to — I mean, what was the point? But I shudder to think how this poor grammar-challenged boy is going to go through life:
---
Dear Admissions Board:
I would like to be considered for your doctorate "program." It is no doubt that your "college" provides the finest "education" that money can buy.
---
Dear Julie:
I "love" you with all my heart. There is no doubt that you are the perfect "woman" for me. I will always be "faithful."
---
Dear Mr. Throckemeyer:
I have been here for three years working for your "company," and have been "working" diligently. I think you will find that my "performance" more than justifies a raise.
---
Really, punctuation is key!
Discussion
Comments are moderated whenever I remember that I have a blog.
There are no comments on this article.